We're delighted to tell you that today we are launching the Adzooma Marketplace!
Putting businesses in touch with expert digital marketing agencies and providing our agency partners with highly qualified clients, the Adzooma Marketplace is a win-win for everyone!
Featuring experts in SEO, PR, website design, CRO, e-commerce, PPC, and so much more, our Marketplace is where over 50,000 businesses and agencies come together to find their perfect partner.
So let's tell you a little bit more about what exactly Adzooma Marketplace entails.
What is Adzooma Marketplace?
Lacking expertise or looking for more efficiency from your digital marketing campaigns? Our Marketplace will put you in touch with someone who can help.
Agency with digital marketing expertise to offer those looking? Our Marketplace is the perfect place for you.
The digital marketing world is always evolving and to stay in touch with that evolution, businesses themselves need to be agile and always ready to adapt – especially in these uncertain times.
Having spoken to so many advertisers who use our platform since launching in 2015, there was a calling to create a space where these advertisers could showcase their own expertise to businesses looking for trusted and recommended digital marketing services.
With there being so much depth to even the more obscure niches of digital marketing, it's practically impossible to keep everything under one roof – be that content marketing, PR, development, CRO, affiliate marketing. Outsourcers are the lifeblood of our industry.
That's why Adzooma Marketplace was born. To establish a truly trusted one-stop-shop for all digital marketers looking to scale, improve or just become efficient in this ever-changing world.
Because of our flagship platform, we were in a position to create such a shop. So we did it.
You can see just how it looks here: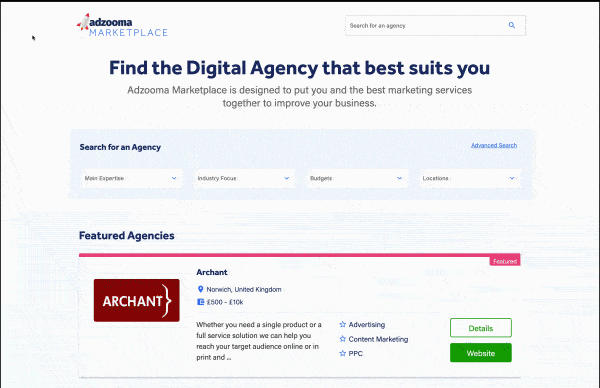 The flagship Adzooma digital marketing platform currently has over 50,000 connected accounts meaning our Marketplace is constantly being scoured by thousands of advertisers who are always on the lookout for services to help them grow and prosper.
Here's a full list of the types of services currently being offered on Adzooma Marketplace:
A/B Testing
Amazon Marketing
Business Consultancy
Digital PR
Marketing Automation
Marketing Strategy
Multilingual Website Design
PPC
Print Media
Promotion Design
UI/UX
Video Production
Web Analytics
Website Design
Website Development
Website Hosting
How do I offer my services on Adzooma Marketplace?
Getting started is very easy. It's a three step process (or just a two step process if you're already on the Adzooma Growth / Agency package).
Create your listing alongside a member of our team
Publish your listing
Yep, very easy indeed. Here's where you can get started along with a little bit more info.
If you're already on the Adzooma Growth / Agency package, one of our team will be in touch to talk you through your Marketplace options. Or if you want to speak to them right now you can.
And there's more…
The Adzooma Marketplace has a lot going for it. Not only do we have over 50,000 paying advertisers on the doorstep, but we also have a steady stream of targeted visitors browsing our website and blog on a daily basis too.
Our content is regularly featured on industry-leading websites, our PPC campaigns are always bringing in more interested parties, and our data reports are often seen in the industry press. We're not boasting, it just means there are always new eyes ready to view your listing.
You can also become an author on our blog and exhibit your expertise to our readers, email subscribers, and social media followers too.
Adzooma Marketplace It's the mediator between your expertise and those looking for your expertise.
It puts you front and centre, and showcases your offering as an expert leader in the big wide world of digital marketing.