Automations
Reduce your workload and costs with Automation
Apply automatic actions to Google, Facebook, and Microsoft accounts to monitor and manage your campaigns 24/7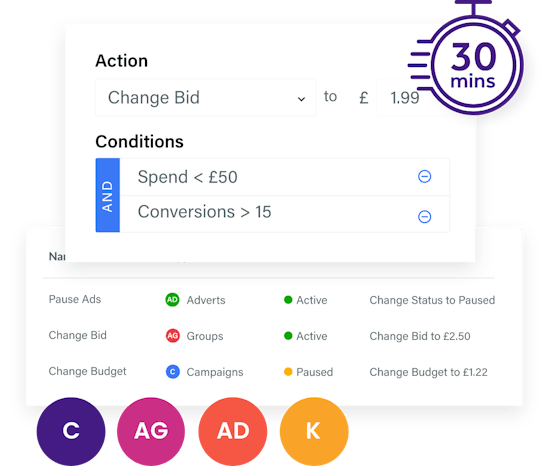 What are Automations?
Automations allow you to create custom rules and alerts to manage your PPC campaigns. It's a hands-free way of making sure your online advertising campaigns are running at peak performance.
Adzooma Automations give you the power to:
Automatically adjust budgets to prioritize your most efficient campaigns
Identify growth opportunities without hours of tedious data analysis
Take action at exactly the right moment with custom alerts
Turn your weakest performers into successes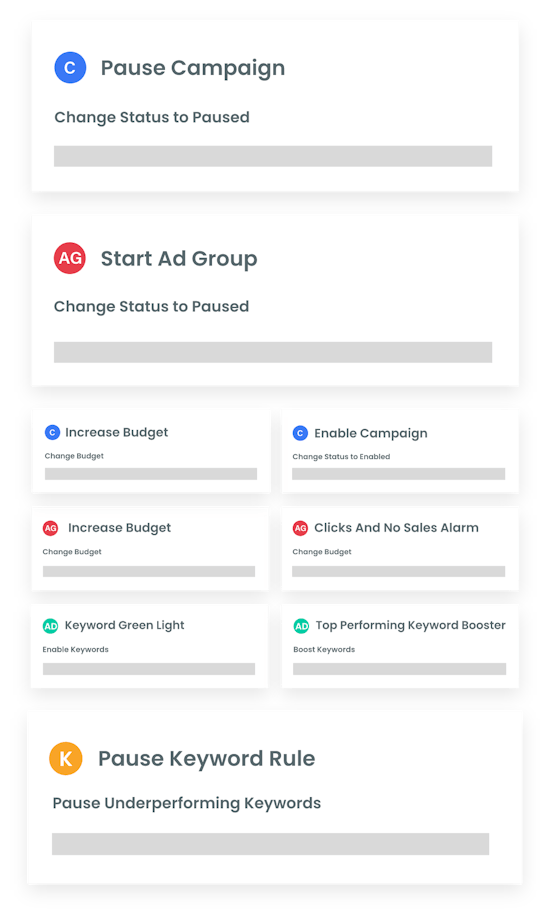 Save time with Templates
Not sure where to get started with automated rules? Simply use our selection of premade Google, Facebook, and Microsoft Ads templates to get started quickly, these include:
Pause Non-Converting Keywords: Stop bidding on keywords that aren't driving conversions.
Low CTR Ad Groups: Set your minimum CTR benchmark and get alerted when an ad group hits it.
Low Campaign Conversion Rate: Protect your ROI when your conversion rate is low but spend is high.
Pause Poor Performing Ads: Prevent wasted spend on adverts that are getting clicks but not conversions.
Campaign Budget Underspend: Get alerted when your campaigns are under-delivering.
Improve Poor Performing Keywords: Get notified of keywords with a poor Quality Score and CTR.
These templates have been built by industry experts as their go-to rules for setting up and optimizing their campaigns.
You can use these templates as a starting point and easily tailor them to your own needs and campaigns.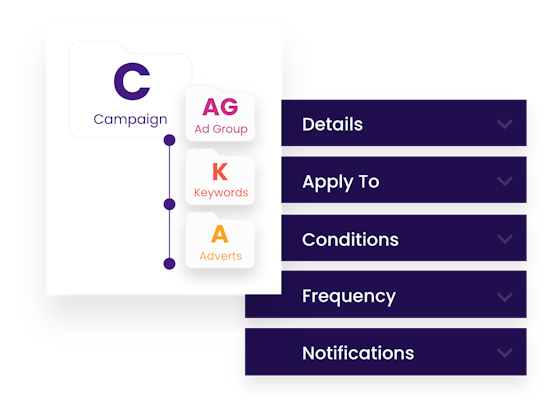 Create Your Own Automation Rules
Not a Javascript pro? Use Adzooma's simplified rule builder to custom build your own automation rules without the need to code them from scratch. 

Firstly, specify a name and a description of your new rule so you can quickly find it in your list of automations and take appropriate action when the rule is triggered.
1. Name & Description
Firstly, specify a name and a description of your new rule so you can quickly find it in your list of automations and take appropriate action when the rule is triggered.
2. Apply To
Select which part of the PPC campaign structure you wish to apply the rule to, whether you want to apply your rule to entire campaigns, or the ad groups, adverts or keywords within them.
3. Conditions
Create the conditions that need to be met for the rule to be triggered using AND/OR statements. An AND group triggers a rule when ALL of the conditions are met, while an OR group triggers a rule when ANY of the conditions are met.
4. Frequency
Select how often you would like Adzooma to run your rule from a range of common intervals, including every 30 minutes, hourly, weekly or monthly.
5. Notifications
Select which of your team will be notified when the rule is triggered. By default, the account owner will always be notified, but you can also select additional teammates.
6. Save
Click 'Save' and the rule will be applied to your account. You can edit, enable, pause or delete this rule at any time.
FAQ's
How do I access Automations?
To get started with Automations, you'll need to connect at least one advertising account to Adzooma.  Once your advertising account is connected, click on 'Paid Ads' from the main navigation. If you have more than one advertising account connected, you can select which one you wish to view automation rules for using the account selector dropdown. Once you've selected the desired account, click 'Automation' from the sub menu.
How do I connect my advertising accounts?
Login to your Adzooma account and scroll to the bottom of the home page where you'll see clear buttons that say "Connect Existing Account". Simply click these to connect your Google and Microsoft accounts.
How do I create an automation rule?
To get started with a new rule, simply click the 'New Automation Rule' button. Here, you have the option to select from our list our pre-made rule templates created by industry experts, or create a rule from scratch using our sophisticated range of tools and options.
Is my data secure?
Yes, Adzooma will only use your account information to analyze your account and provide recommendations; we will never share your data with any third parties.
How do I use the automation templates?
Click 'Choose Template' to be taken to our comprehensive list of pre-made templates. Using the sidebar on the left, you can filter down the list by campaign, ad group, advert or keyword, and specify your own custom search. When you have selected a rule click 'Save' and you will see your rule appear in the Automation homepage. If you change your mind after setting a rule, you can easily edit, pause or delete it by selecting the 3 dots.
Can I customize my automation rules?
Yes, all of our templates can be customized to fit your exact needs. Just click the 'Customize Rule' button to edit what the rule applies to, the conditions, or frequency. You'll also be kept completely up to date with automation logs, so you'll always know how your automations are affecting your campaigns.
Let's get started
Create your first rule today with Adzooma Automation