SEO REPORT
Improve your website with our SEO Performance Report
Identify immediate improvements and compare your performance against your competitors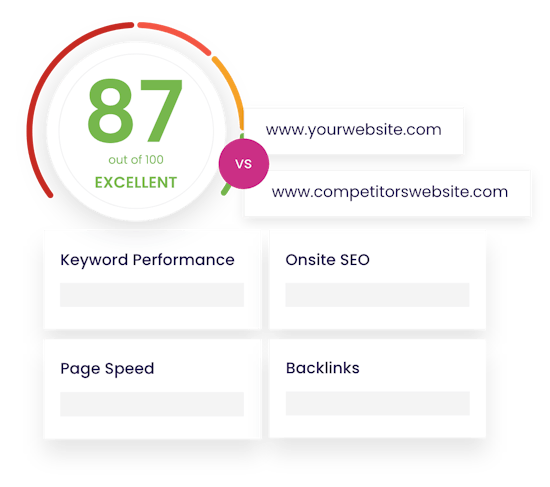 Ensure your Website SEO is on point
With so many factors affecting your organic website rankings, you need to know your SEO efforts are focused on the right areas. The Adzooma SEO Performance Report provides a quick and easy way to check your progress and optimize your strategy.
Our SEO report checks all of the essential performance elements of your website to ensure it runs quickly and efficiently, keeping both the search engines and your website visitors happy. You don't need to be an SEO pro; we break everything down for you and keep it jargon-free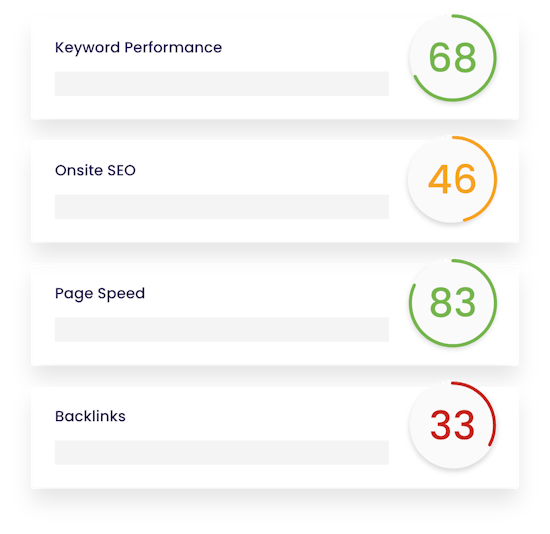 A full analysis of your website in minutes
We provide an score out of 100 for your SEO performance spanning numerous on and off-site factors. This is followed by a detailed breakdown of the improvements that should be made, split out over 4 key areas:
Keyword performance shows you where your website ranks for selected keywords, which keywords your competitors are ranking for, and gaps that you might be missing.
Onsite SEO gives you technical expertise and recommendations to optimize key elements of your website, such as title tags, redirects, meta descriptions and more.
Page speed checks the load time of your website and identifies elements that are slowing you down and could be losing you customers.
Backlinks gives you an overview of the links that point to your website, and the quality of the links you're receiving.
Easily perfect your SEO in 4 steps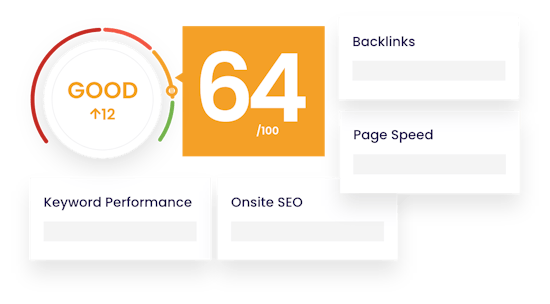 Check your performance at a glance
We'll calculate your SEO score so you can see how optimised your website currently is.
1. Performance
Check your performance at a glance
We'll calculate your SEO score so you can see how optimised your website currently is.
2. Improvements
Gain the knowledge that gives you an advantage
Using a 'what, why, how' approach we'll provide actionable optimisation suggestions with full explanations of why they're important and how to implement them.
3. Competitor Comparison
Benchmark against your competitors
Trying to outrank your main competitor? Your report will show you how you compare on key elements such as keywords, backlinks, and more. Run new reports every week and track your progress.
4. New Opportunities
Uncover new opportunities
Identify backlink opportunities and discover new target keywords to expand your reach, giving you more chances to hit the top spot.
FAQ's
How long does the report take to run?
It takes a couple of minutes to run the report. This includes a full analysis of your keyword performance, onsite SEO, page speed, and backlinks as well as the actions you need to take to improve. 
Where can I find the SEO report?
The SEO Report is one of our Visibility features, and you can find it by clicking on Visibility in the navigation bar.
How much does the report cost?
You get 1 free report as part of Adzooma Essentials, with Adzooma Plus, you can run up to 400 reports every month.
Let's get started
Signup and get a free breakdown of your website performance and targeted actions to improve your search engine rankings.